Review: Parker Vector Rollerball

Manufacturer: Parker Pen Company, a Newell Brand
Model Number: S0908810_IE
Price: $15.50 at Amazon
EE Critic Score: 8/10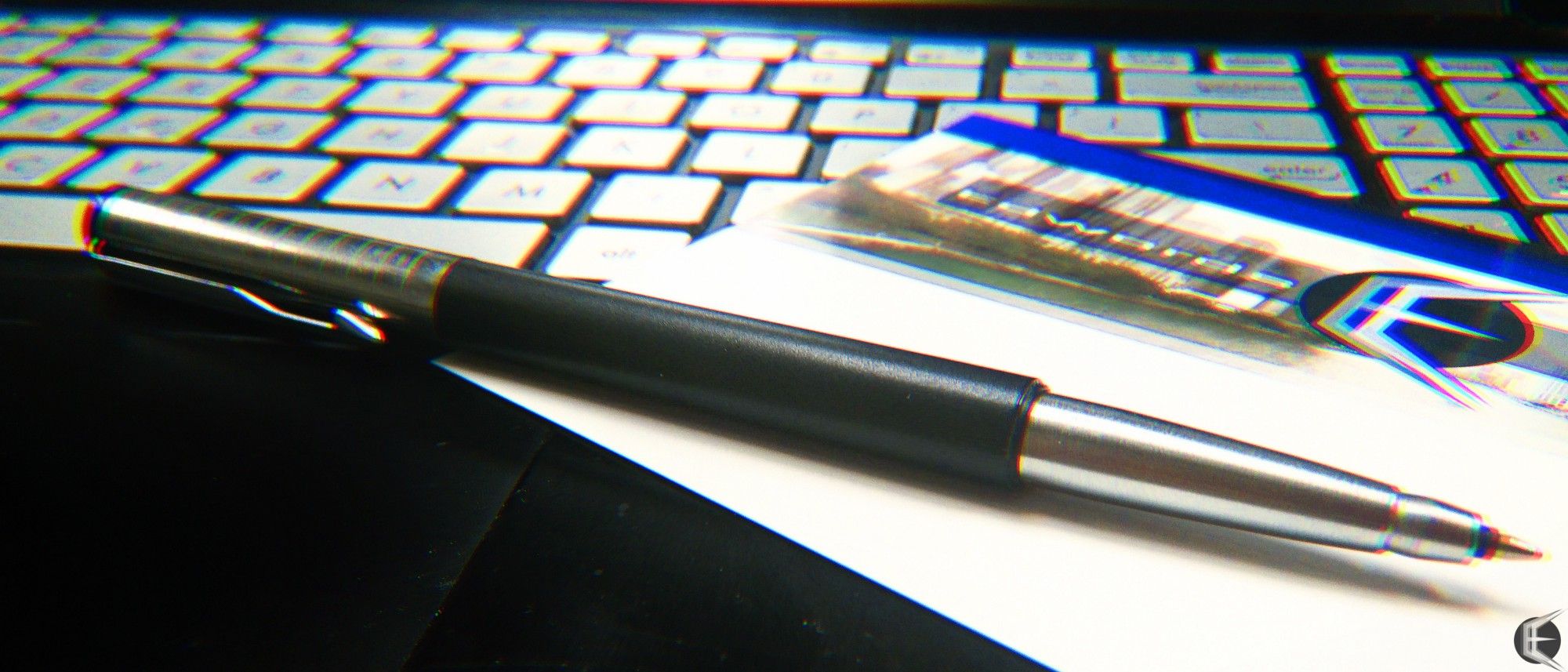 Parker is not the most recognized name in pens, at least not anymore. It was founded in the late 19th Century in Janesville, Wisconsin, and in the early 20th Century it was one of the largest manufacturer of pens in the world. The Jotter, Parker's mass-market ballpoint pen, remains popular enough to maintain a place in supermarket office supply aisles, but today Parker is less commonly found than brands like Papermate or Bic.
Still, Parker is generally respected. Besides the Jotter, Parker is also known for the Vector line of capped rollerballs and fountain pens. These come in several different styles and finishes. The particular model I have is the Vector Premium Satin Black Stainless Steel Chiselled.

Features
The barrel, cap, and trim of the pen are made of stainless steel. The barrel has a satin black resin finish, while the trim and cap are simply polished, with a grid pattern chiseled into the cap. The plugs in the top of the cap and end of the barrel are black plastic.
Overall, the Vector is a slim pen, with the grip section being exceptionally so. The grip is smooth, tapering metal, with a single indentation set well toward the tip.
The Vector takes Parker's standard Navigator Rollerball refill, requiring the plastic extender which these come with to properly fit in the pen. The refill I'm using is the 0.7 mm Medium size, with black ink.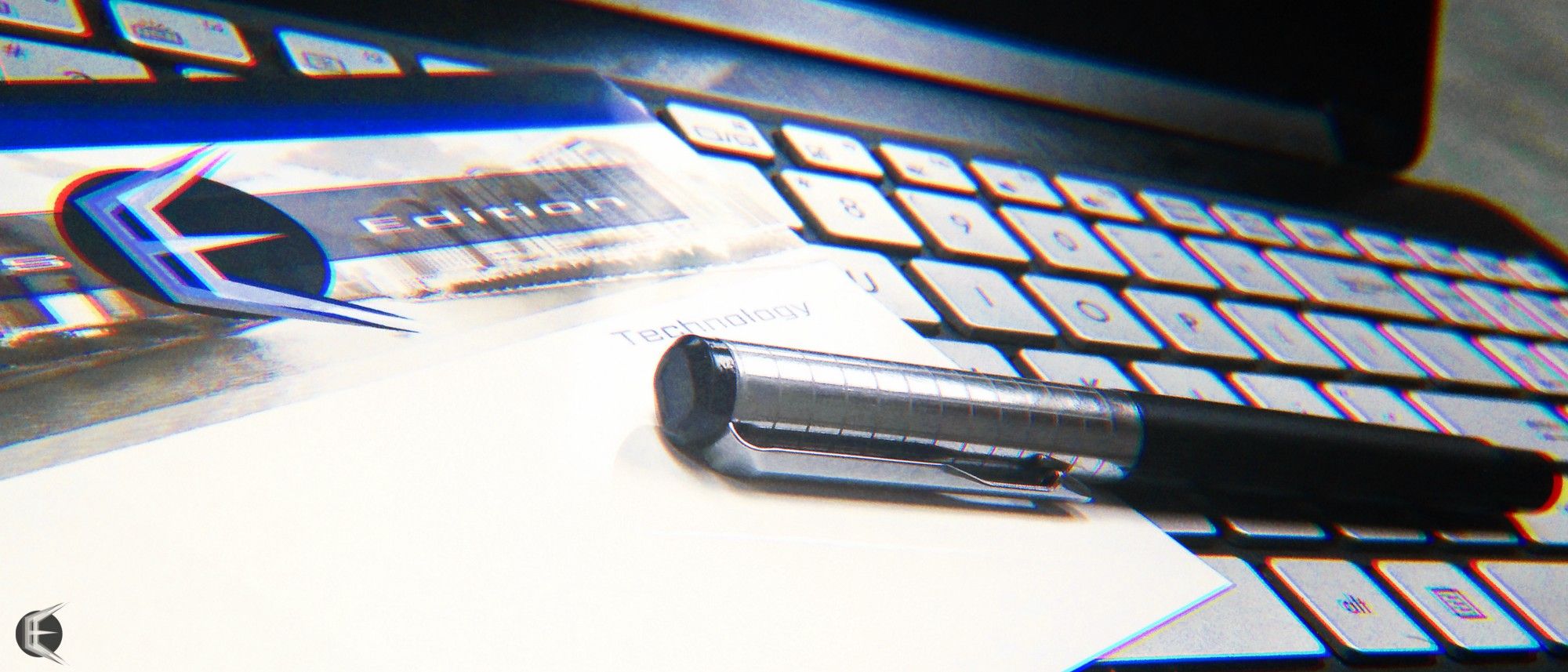 Reviewer Analysis
What I Like
This is, at least to my tastes, a very handsome pen. Parker keeps branding to a minimum, with their name and logo present only on the bottom ring of the cap, letting their distinctive arrow-shaped clip do the talking on what sort of pen it is.
This clip is the only prominent piece of the furniture, which I like. Overly sculpted and embellished pens tend to be awkward-looking in my eyes, so I appreciate that Parker kept things understated and the lines clean.
The ink is deep, liquid black without being inconveniently smeary. The writing is smooth, and line width is consistent.
When posted, the Vector has a good, balanced weight which doesn't tire the hand.

What I Don't Like
The grip's only indentation sits so far forward it has really no chance of preventing the fingers from sliding back to where the grip meets the barrel, which is a hard edge making it rather uncomfortable to clasp. By holding the pen more vertically, with my thumb across the barrel and my fingers farther forward that I might typically place them, I've modified my grip a bit for this pen, solving this problem. Still, I can't comfortably hold the pen in my instinctive position. Depending on how you hold pens, this may not be an issue for you.
When the pen is capped, the cap tends to spin rather freely, rather than stay secured. It does stay capped, but it doesn't feel as solid as it might.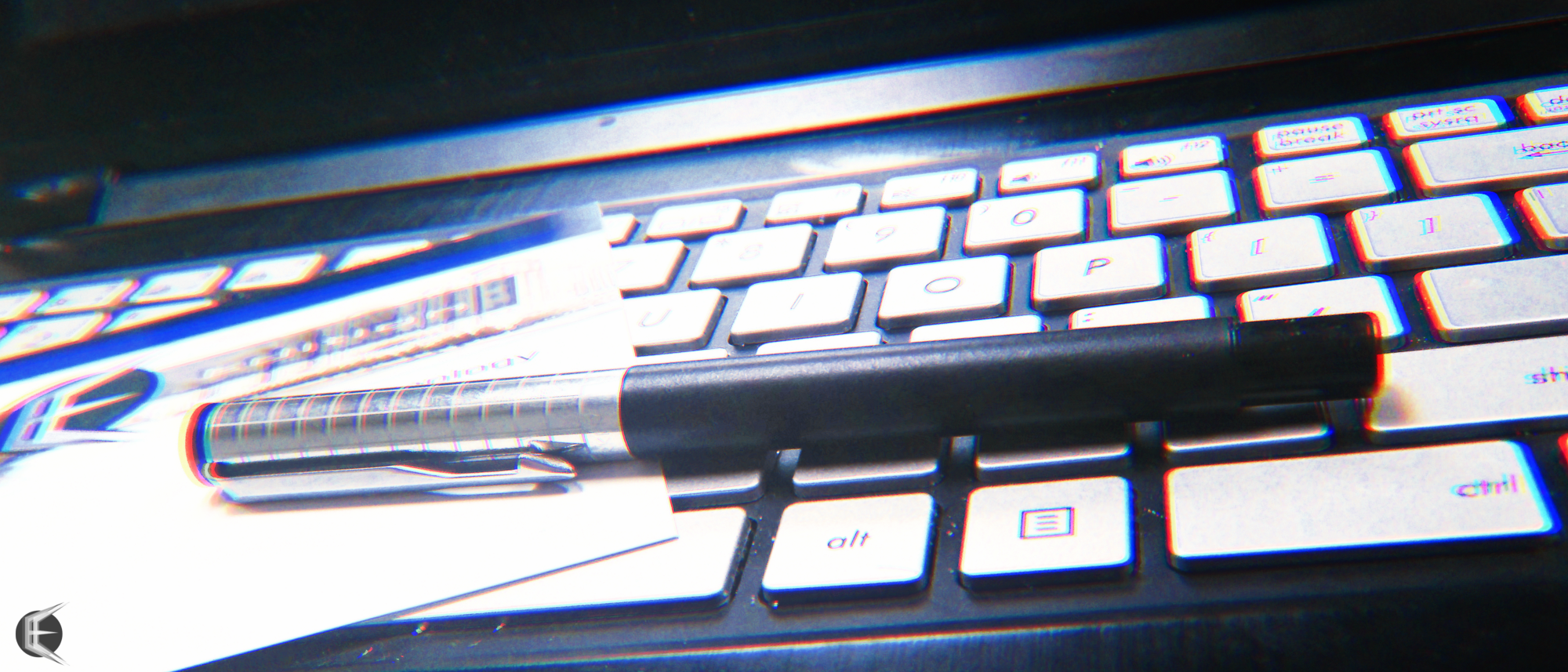 How I Use It
I've written at length a bit with this pen, but typically it's one of my regular carry pocket pens. As I mentioned, my normal grip doesn't get along very well with this pen, which makes writing with it for minutes on end somewhat less than enjoyable for me. It's solid enough to knock about with other things in my pocket, and it's a quick writer; I find it particularly good for signing things.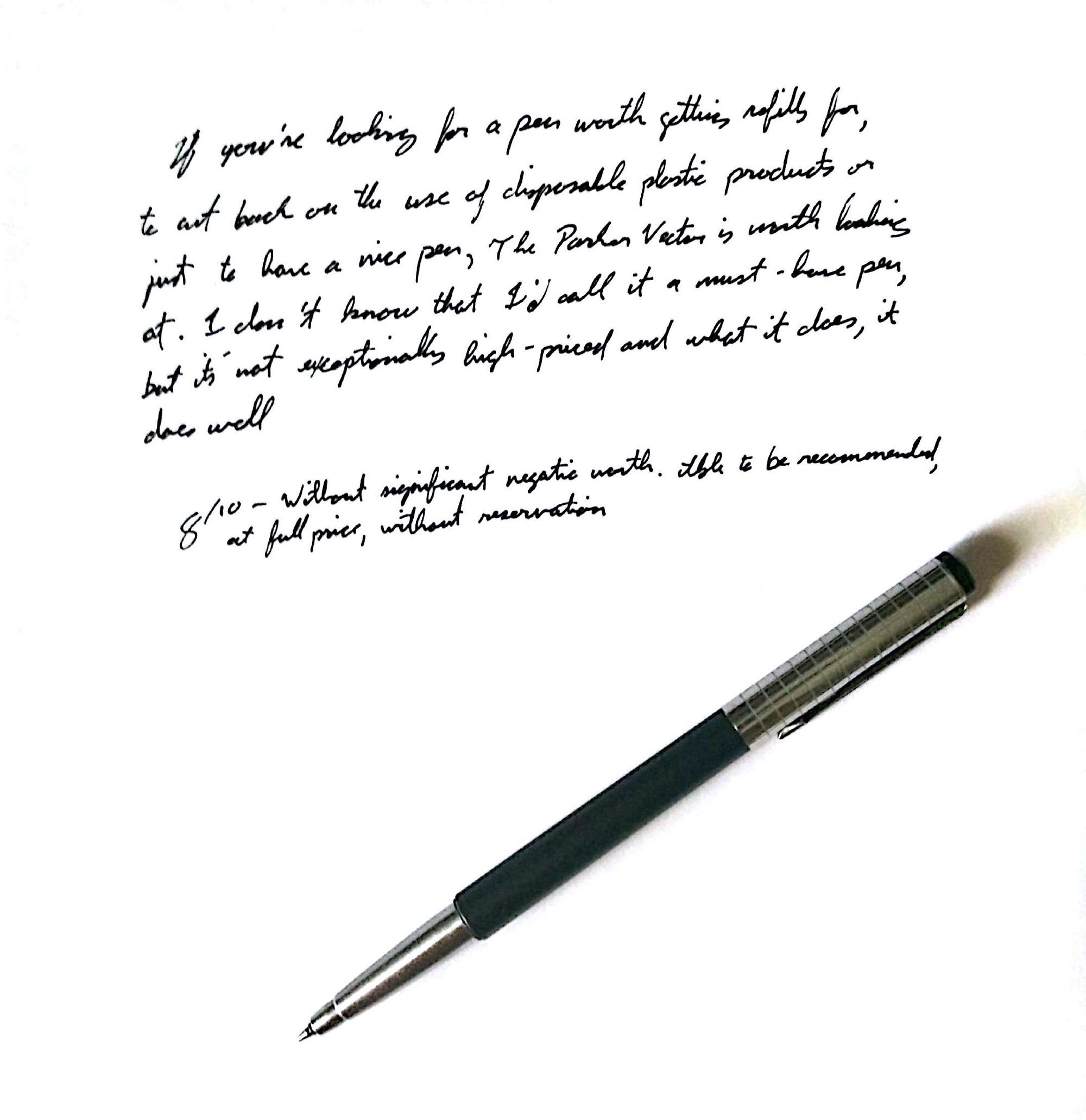 Recommendation & Rating
If you're looking for a pen worth getting refills for, to cut back on the use of disposable plastic products or just to have a nice pen, the Parker Vector is worth looking at. I don't know that I'd call it a must-have pen, but it's not exceptionally high-priced and what it does, it does well.
8/10 — Without significant negative worth. Able to be recommended, at full price, without reservation.